The NFTs are becoming more vast and voracious. With the emergence of the NFT trading market, the surge in demand for robust, scalable, and secure NFT marketplaces is more evident than ever before.
How about sharing some numbers?
The global market for NFTs is expected to generate $125.6 Billion by 2027, growing at a CAGR of 27.3 percent. (Source: Research and Markets)
As of 2022, the Ethereum NFT sphere trading volume is 8.22 million ETH across 2.46 million unique wallets. (Source: Nansen's Trends & Indexes dashboard)
The market capitalization is expected to grow at a CAGR of 33.7% from 2022 to 2030 and increase from $11.32 Billion in 2021 to $231.98 Billion by 2030. (Source: Verified Market Research)
NFT marketplaces allow trading, storage, monetization, and a smooth transfer of ownership among peers.
From investors and NFT enthusiasts to traders, anyone can invest in NFT marketplace development.
This blog post focuses on popular NFT marketplace ideas aspiring business owners can consider building their own platform.
NFT Business Ideas to Build Your Marketplace
Are you planning to create an NFT marketplace but cannot find the right idea before you reach out to an NFT marketplace development company?
You might find multiple intellectuals giving you plenty of suggestions with no proper reason.
However, you should be the first person to worry about the validity of your NFT marketplace idea, as it is your money and time that is to be invested.
You cannot put your resources at risk of falling for erroneous NFT marketplace ideas.
The best way to get ahead in this direction is to identify the type of NFT marketplace you want to create.
Sports NFT Marketplace Development
The sports NFT is setting new trends in the world of this futuristic cryptographic asset. Sports NFT creators are allowing traders to purchase collectibles, sports cards, and a lot more in tokenized forms using the sports NFT marketplace. The assets traded in the form of sports NFTs are expected to reach $92 billion by 2032.
Any NFT enthusiast business owner can consult a Blockchain development company to identify a smart and deployable plan to implement their NFT business ideas.
Celebrity NFT Marketplace Development
NFTs are no longer limited to techies. These high-growth margin cryptographic assets are gaining immense popularity, so they have attracted superstars like Snoop Dogg, Lindsay Lohan, Grimes, William Shatner, and many others.
Celebrities are collaborating with NFT marketplace development companies to help them create and launch their own NFTs.
These NFTs have also helped celebrities earn high revenues by selling their digital collectibles.
Gaming NFT Marketplace Development
Creating a gaming NFT marketplace like NFTb or Airnfts can be complex if you do not have the proper understanding of the vision. The gaming NFT market is growing fast with the adoption of user-centric NFTs for gamers and cross-chain trading.
A team of gaming NFT marketplace developers can help you identify the latest trends and turn your vision into a dynamic NFT marketplace for gamers.
Fashion NFT Marketplace Development
You can now purchase fashion art available in the form of a uniquely identifiable token. From Gucci, Gabbana, Dolce, and Louis Vuitton to Adidas, leading fashion brands are creating their NFTs by collaborating with NFT influencers. These NFTs are creating large sums of money and popularity.
Gucci partnered with Superplastic to launch SUPERGUCCI, a three-part series of NFTs. The first collection of ten NFTs was released on February 1, 2022.
As the fashion NFT market expands, other leaders in the fashion industry have also started investing in digital fashion through NFTs.
Fashion NFT marketplaces like DIGITALAX are transforming the fashion industry with these digital assets more dramatically than ever before.
Art NFT Marketplace Development
The art NFT sales have accounted for more than USD 36.1 million as of November 15, 2022, presents Statista.
Artists can create and list tokenized artwork on NFT marketplaces like OpenSea, SuperRare, and Rarible and earn high royalty amounts.
Ever since the adoption of art NFTs, the process of monetizing artwork and getting the right returns have been more transparent and evident.
NFT Real Estate Marketplace Development
Metaverse is not far from reality. Decentraland is already there. Axie Infinity is one of the widely-known gaming NFT marketplaces, where a player sold the land for over 888 ETH (≈$1.5 million), making it the most expensive NFT sale ever.
From creating, selling, and purchasing virtual lands to providing ownership of physical lands through a decentralized tokenization process, the NFT real estate marketplace is an aspiring and transformative market domain.
Also Read | Steps to Develop an NFT Marketplace For Real Estate
White Label NFT Marketplace Development
Developing an all-new NFT marketplace can be expensive, time-consuming, and complex at times. Hiring a white-label NFT marketplace development company can be a superior option as it not only saves your time but also saves plenty of bucks.
However, if you have a unique and brand-new idea that has never been in the market before, you can hire a custom NFT marketplace development company.
NFT Aggregator Marketplace Development
With several NFT marketplaces existing in today's market, there is a fierce competition among them to come to the top. Simultaneously, NFT enthusiasts were having trouble finding the best NFT marketplace to invest, trade, or create an NFT.
However, Blockchain technology makes it possible to integrate the most popular NFT marketplace networks as a unit, enabling multi-chain support.
NFT aggregator marketplace brings many NFT marketplaces together, making it hassle-free for NFT enthusiasts to compare the price and find the best possible solution.
Top NFT Marketplace Ideas To Build Your Own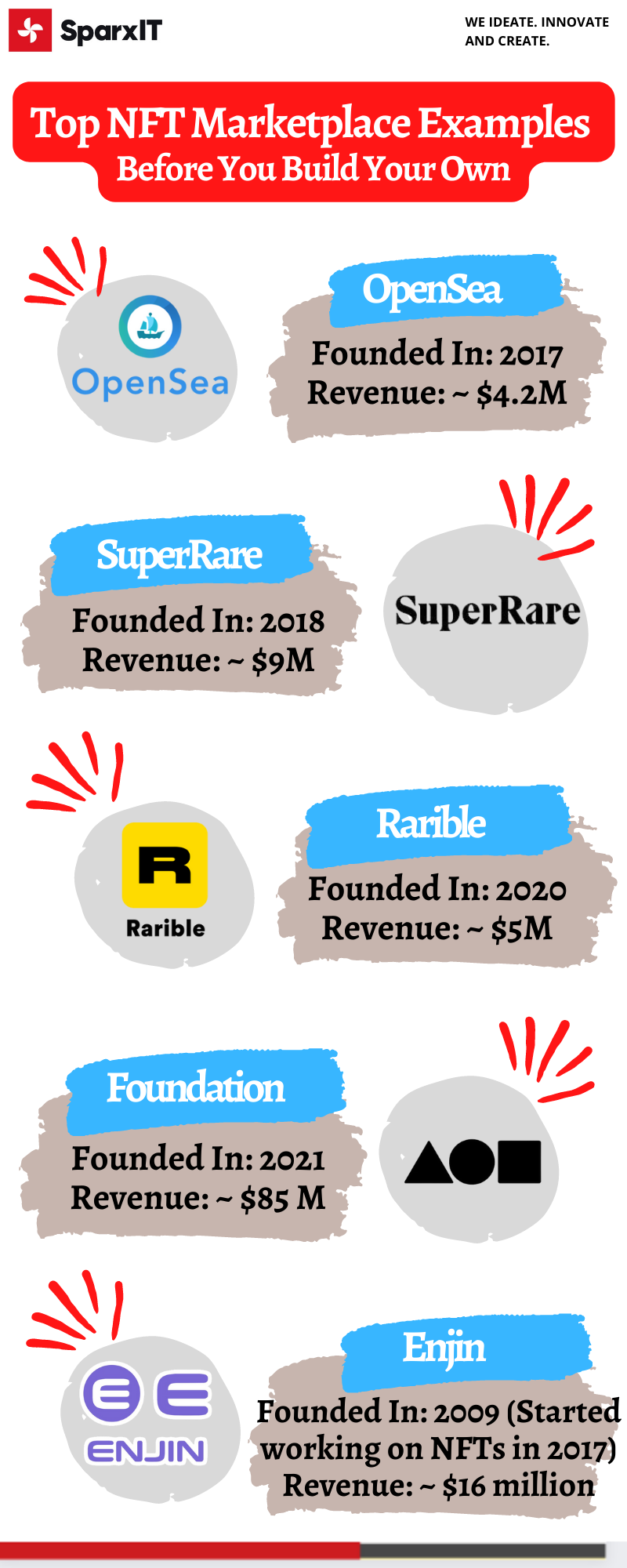 As per the data available on DappRadar, OpenSea, Axie Marketplace, and CryptoPunks are the three biggest NFT marketplaces, with market volumes of $33.85B, $4.26B, and $3B, respectively.
To build a competitive and interactive NFT marketplace, you can emulate some popular NFT marketplaces that have attracted a large audience.
NFT marketplaces like OpenSea have defined NFT trading across the world.
So, let us comprehend the NFT marketplace you can take inspiration from before you start building your own platform.
OpenSea Like NFT Marketplace Development
OpenSea is a US-based NFT marketplace allowing traders, investors, and NFT enthusiasts to buy and sell NFTs based on the Ethereum ERC-721 standard.
The NFT marketplace has recently acquired Gem, an NFT marketplace aggregator. OpenSea is creating $124 million of average sales on a daily basis, and the platform is set to adapt the functionalities of Gem onto its NFT marketplace.
OpenSea is one of the first and most popular NFT marketplaces ever introduced to the world of NFTs, and it is still upgrading seamlessly. Hence, emulating OpenSea can help you create a traditional yet appealing and scalable NFT marketplace.
Also Read | Top 5 NFT Marketplace Alternatives to OpenSea
SuperRare Like NFT Marketplace Development
CineFrames, a digital art band, has partnered with Disney Entertainment to release digital movie posters and artwork. However, this project is different from SuperRare, the entertainment industry-based NFT marketplace, as the entertainment and art industry is at the center of this rising NFT marketplace.
SuperRare is an NFT marketplace dedicated to art NFTs functioning, particularly over the auction-based system.
The platform has a unique user authentication model where they invite artists to share their profiles, and only after closely reviewing the work and other characteristics based on certain conditions, can artists sell their artwork on SuperRare.
If you are planning to create a niche marketplace for trading NFTs, SuperRare like NFT marketplace development can be a choice for you.
Rarible Like NFT Marketplace Development
With an annual trading volume of more than $273 million and 2.1 million monthly active users, Rarible is a popular NFT marketplace that has grown staggeringly in the last few years.
Business owners seeking to provide a social media-like interface can create an NFT marketplace like Rarible where anyone can create, list, sell, or purchase NFTs. This NFT marketplace currently allows users to create NFTs on three Blockchains, i.e., Ethereum, Tezos, and Flow.
Rarible provides a dynamic ecosystem for trading a wide variety of NFTs, including rare collectibles, artworks, in-game assets, media files, etc. Moreover, the NFT traders using Rarible were also given a governance token called RARI, which allows token holders to vote and contribute to the crucial decisions affecting the foundational processes.
Users can create NFTs using three Blockchains, i.e., ETH, FLOW, and Tezos.
Foundation Like NFT Marketplace Development
As per DappRadar, the trader volume of Foundation NFT Marketplace showcased 41,124. The marketplace attracts a large audience with a niche-focused structure and a community-driven curation model. The platform is currently focusing on Art NFT trading.
Those looking to create one of the best NFT marketplace like Foundation can consider emulating its market strategies, design, and user experiences.
Since their launch in February 2021, the creators have earned over 39,000 ETH ($160 million) using Foundation NFT.
Enjin Like NFT Marketplace Development
Enjin is a technology solutions organization established in 2009. They shifted their processes to NFTs in 2017 by launching their dedicated NFT marketplace. The marketplace focuses on offering an extensive ecosystem of tools facilitating NFT creation, trading, storage, and integration. The platform has gained immense popularity for its distinct tools and programmable assets used in the world of virtual gaming.
You can develop a top NFT marketplace like Enjin by availing of NFT marketplace development services. The platform is particularly focusing on three primary paradigms, i.e., identity, utility, and feasible investments.
Custom vs. White Label NFT Marketplace Development – Which One Should You Choose?
Developing a clone of an NFT marketplace like OpenSea, Rarible, SuperRare, or any others can eradicate half of the dilemmas related to the product discovery stage, such as finalizing the core features, UI inspiration, technology stack, etc.
Hiring a white-label NFT marketplace development services provider can help you make your product development process more productive, cost-effective, and time-efficient.
If you are seeking to understand the basics of NFT marketplaces, types, market trends, development process, and costs, you can read this complete guide on NFT marketplace development.
Conclusion
NFT marketplaces have a bigger role to play in the upcoming years as the world will experience an expansion of the internet through Web 3.0. The goal of this blog post was to bring critical insights into NFT marketplace development ideas.
SparxIT is one of the leading NFT marketplace development companies, building innovative, secure, and efficient NFT marketplace across the globe & different industry domains.
If you have any feedback or queries related to the subject, you can connect with us through the comment box below.
Useful articles, updates, offers and guide boon from SparxIT Team
Categories
Let's Discuss Your NFT Marketplace Idea
Featured In