The surge in the usage of remote technology solutions has led to an impeccable rise in the mobile app development market. Most of these solutions allow the users to interact with friends or colleagues sitting at distant locations.
From video conferencing to cloud storage, the demands for data-oriented mobile apps are becoming larger in terms of customer base and revenues.
Since we are moving towards the Web 3.0 era, we are witnessing how technology leaders invest in developing robust and secure decentralized finance (DeFi) applications.
From hailing a cab ride to ordering your food, users can now avail services on-demand.
There are many such instances that indicate how fast-paced, competitive, and rewarding the app development market has become.
For any business leader, investing in the mobile app market is an opportunity to earn high revenues and lead the change with technology.
Mobile applications like PayPal, Google Pay, Uber, Instagram, WhatsApp, Zoom, etc., have become an essential part of their users' lives.
Anyone with an app idea may have two important questions to ask before they move any further toward the development and other technical parts of the process.
"How much does it cost to develop a mobile app?"
"Whom should we hire to build an app of our vision?"
Sophisticated answers to these questions would allow a client to leverage a clear understanding of their project goals.
This blog post will help you comprehend everything you need to estimate mobile app development costs.
Mobile App Development Market: An Overview
The worldwide mobile app market was valued at USD 197.2 billion in 2021 and is projected to reach around 583.03 billion by 2030, with a compound annual growth rate (CAGR) of 12.8% from 2023 to 2030.
Play Store has more than 3.553 million mobile apps worldwide, whereas the Apple App Store stands close at 2.2 million mobile apps.
The major app category includes gaming, retail and e-commerce, mobile health and fitness, music and entertainment, and social networking.
The app development market worldwide is growing irrespective of the regions and has showcased a technological and market revolution.
Android app development cost rely significantly upon the trends as it transforms the utilization of available development tools.
App development companies comprehend these market insights to reshape their development and market strategies.
Unveiling Average Mobile App Development Cost Estimates
The approximate cost to make a mobile app can range from $25,000 to $150,000, and it can even reach $300,000 for customized, complicated apps. We used tentative because there are many variables that affect the cost of developing a custom mobile app, like the complexity of the app, its features and functions, the development process, and more.
But don't worry; we have thoroughly analyzed every significant element impacting the mobile app development cost.
Once you are familiar with these elements, you can use the common calculation method to determine how much it will cost to build an app.
UI/UI Designing Hours + Platform Specific Development Hours + Backend Development Hours * Hourly Rates of Developers
Below is an average mobile app development cost breakdown based on its complexity:
App Complexity
Level of Complexity 
Approximate Cost

Simple App

$5,000-$50,000

Medium Complexity App

Advanced Features

Custom UI

$50,000-$100,000

Highly Complex App

High-Level Features

Custom UI

$100,000-$300,000
Crucial Factors That Influence The Mobile App Development Cost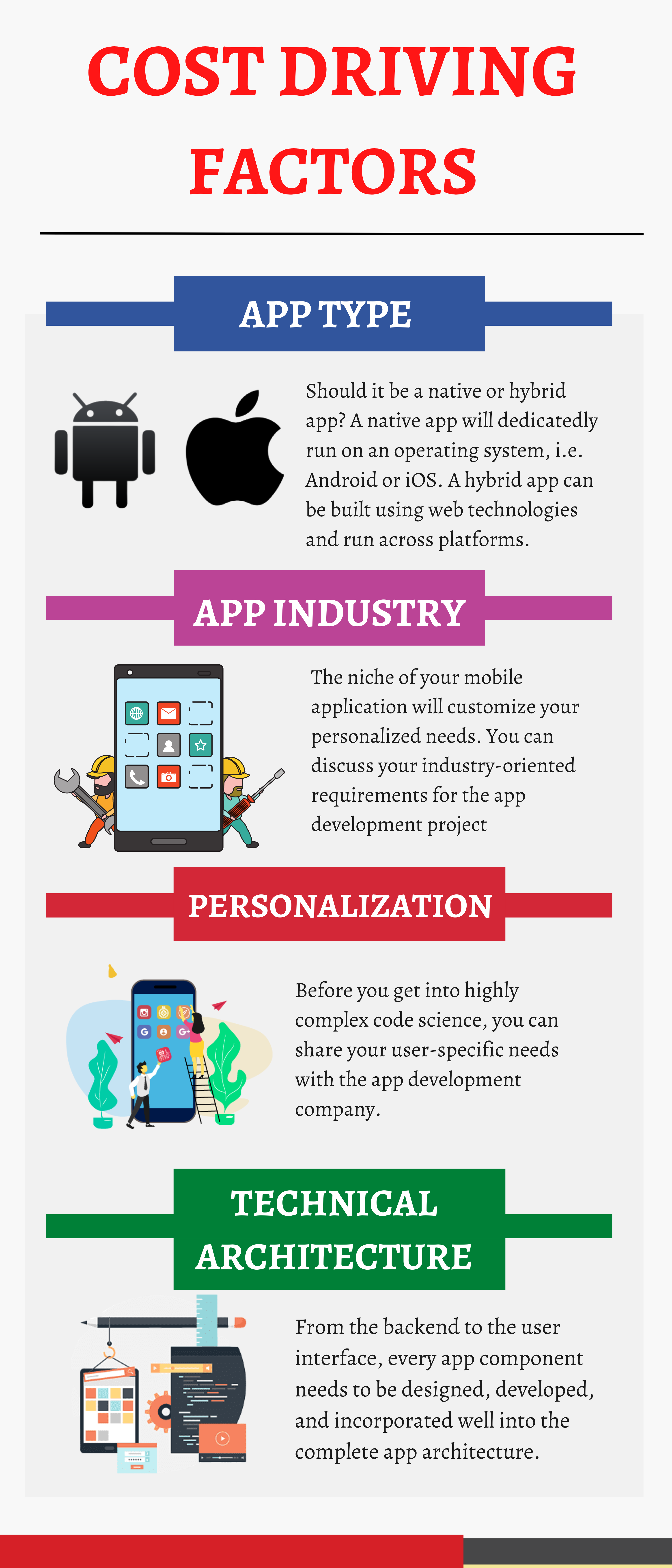 One mobile app can be entirely different from the other one in terms of functionality and technological implementation. There can be different personalization needs and technology stacks.
From prototyping the application to testing it over an extensible testing framework, there can be many crucial factors that may affect the outcome's structure.
The more extensive your app is, the higher the development costs are.
We shall read here: there can be several cost contributors in an app development project.
App Type
We already know every client's two primary questions before they hire an app development company.
The first question is;
"Which type of mobile app do you want to develop?"
Let us simplify it for you.
There can be two ways through which you may want to build your mobile app, native and hybrid app development.
In the native app development methodology, the client requires the developers to create dedicated applications for different platforms.
What is a Native App?
Native applications are the Software designed to run dedicatedly on a specific operating system. These are developed using native technologies, such as Java or Kotlin to create Android applications and Swift or Objective-C to create iOS applications. Native Android apps are compiled using Android Studio, whereas Native iOS apps are compiled using XCode.
Another application type is a hybrid app.
What is a Hybrid App?
Hybrid applications are developed using web technologies, such as HTML, CSS, and JavaScript. These applications can run across platforms. These applications are coded in web scripts and packaged within a native shell to act like a native application. In general, these applications are a combination of web and native applications.
Developing a Hybrid app can be cost and time-efficient as you require the same amount as a native app to create an app that will run on both iOS and Android platforms, which is not the case with the latter.
Hybrid app developers can develop mobile applications using frameworks like React Native, Flutter, Ionic, etc.
| | |
| --- | --- |
| Application Type  | Approximate  Cost |
| Native apps (Android & iOS) | $50,000 to $100,000 |
| Hybrid apps | $10,000 to $150,000 |
| Cross-platform apps | $25,000 to $60,000 |
| Web apps | $15,000 to $50,000 |
Application Industry
The niches play a crucial role in defining what the clients can expect and the deliverables offered by the mobile app development company.
Retail industry operations can occur both online and offline. Hence, the developers may need to use tools that allow their app to work feasibly in the retail space.
For a SaaS application, they may need to create an app that interacts compatibly with the digital resources within the project.
As particular industries have varying parameters in their requirements, the hire app developer cost also depends significantly on the industry in which the app will function.
eCommerce App Development Cost ($60,000-$300,000+)
52.5% of the respondents in a survey conducted by Bizrate Insights and eMarketer in the United States had the Amazon eCommerce app installed on their smartphones.
If you are fascinated by the story of Jeff Bezos and planning to create an eCommerce app like Amazon, you can consider the primary features the application offers.
You can hire an eCommerce app development company to visualize your eCommerce app vision.
Have a grocery app idea? Estimate the cost using this grocery app cost calculator right away.
On Demand App Development Cost ($70,000-$100,000+)
The on-demand app marketplace is among the most aspiring digital services domains. The customer base is expanding significantly.
As per the Statistics available on Statista, the user base of food delivery apps has expanded from 36.4 million users in 2019 to 53.9 million users by 2023.
The taxi booking app market may also reach 1,665.3 million users by 2026.
You can consult an on-demand app development company to get a cost estimation of your app idea.
FinTech App Development Cost ($50,000-$300,000)
As per the survey conducted by E&Y, The United States has a staggering 46% of Fintech adoption rate. 96% of the respondents in this survey expressed their awareness of FinTech services. 75% were availing of at least one of a kind.
FinTech mobile apps are becoming a popular trend in the app development market.
Potential business giants like Google have also launched their dedicated FinTech solutions.
For your FinTech app idea, you can consult a FinTech development company that helps validate your vision and create an effective roadmap to proceed ahead.
EdTech App Development Cost ($60,000-$300,000)
The amalgamation of education and technology has led to the establishment of the EdTech industry. The EdTech market is generating accelerated revenues with assured results. The demands for personalized EdTech apps are leading to the transformation of the education industry.
You can consult an EdTech development company to present your app vision and extract precise outcomes.
Healthcare App Development Cost ($60,000-$250,000)
Digital healthcare solutions have transpired with the advent of constructive and scalable mobile apps. These apps act as a medium between the service provider and care seekers.
Healthcare companies are utilizing technologies like Blockchain to protect personal healthcare information to ensure privacy with service.
A promising healthcare app development company can help you visualize your roadmap to a feature-rich healthcare application.
Dating App Development Cost ($20,000-$60,000)
The dating app userbase has increased from 22.5 million in 2019 to 25.1 million in 2022 and is projected to reach 25.7 million in 2023.
Dating apps have become an important digital resource used to find people of the same interests. Virtual dating is getting more and more popular among young users.
From personalization to customization, dating apps have witnessed a shift in technology demands.
If you are a business leader, you can comprehend more about hiring a service provider and comprehending more about the dating app development process.
Have a dating app idea? Estimate the cost using this dating app cost calculator right away.
SaaS app Development Cost ($50,000-$250,000)
SaaS has been the primary software development model using the cloud to deliver services. Leading companies have utilized the model to create user-oriented and business-driven mobile applications.
The SaaS market is booming in terms of customer acquisition and revenues.
You can explore more about developing a fully-fledged SaaS product through our SaaS product development guide.
Social Media App Development Cost ($60,000-$300,000+)
From Facebook to Instagram, social media has evolved constantly. But, what remains constant is the never-ending rise in its expansion. Social media applications are becoming more personalized and technology-driven.
There are video streaming apps like Magisto allowing users to post video content.
In the next age of the internet, Web 3.0, social media also has a key role to play.
Business owners seeking to invest in social media app development should consider the upcoming trends in the market.
Personalization
Features and functionalities are the pillars of any app vision. You cannot visualize your product or anticipate its market value without comprehending how it is going to help the app users. The goal of every application is to identify a problem and provide an outstanding solution to it.
Personalization within an application focuses on user-specific needs. It is often the key element that distinguishes one application from its contender within the identical marketspace.
From smart music song suggestions to gamification in learning, personalization has provided mobile app developers the perspective to create user-focused and result-oriented applications.
Personalization can require app developers to implement out-of-the-box technologies to create interactive features. Hence, personalization also contributes to mobile app development costs.
Technical Architecture
The mobile app development process has transformed significantly over the years. The app development market has become more competitive than ever. With the advent of new technology trends, the technical infrastructure has also transformed.
From developing a strong backend, creating an interactive UI, and implementing an advancing project management methodology to integrating third-party applications and APIs, the developers may require extensive technical capabilities.
These technical capabilities are provided through a smart and extensible technical architecture.
Cost-Efficient Mobile App Development Process to Get Started
Every app idea can differ from another in terms of business objectives, personalization needs, and economic scale.
So, how do you ensure that you are investing smart and adequate to the end-product, which is a mobile app in this case?
To create cost-efficient, you need to ensure the right implementation of development techniques.
Prove The Potential of Your App Idea
Mobile apps are all about ideas. Despite the high-scale growth of the app development market, you must ensure that your application has a Unique Selling Proposition (USP).
The USP will prompt the investors to consider investing in your idea. The more potential you showcase, the better exposure your app will get. It will also help you have a clear vision while negotiating and planning a financial roadmap for the app.
Focus On The Demand-Specific Costs
Different applications have a variety of audiences. The end-users would not care how much funds you invested in the consultation, prototyping, or even using an upgraded technology stack. All they need are results in terms of superior functionality and better performance than other alternatives in the market.
You must comprehend which features you should prioritize including in your mobile app and what you should not.
Keep Its Design Simple and Elegant
A lightweight user interface escapes regular maintenance and updates. It not only saves your time but also saves money invested in maintaining an app.
An interactive design also engages more users to your mobile app and assures success in terms of userbase and revenues.
How Much Does It Cost to Create an App On an Hourly Basis?
There are two ways through which an app development company will ask you to avail of the app development services, fixed charges, and time & material.
If you have a small-scale mobile app development project, you can prefer availing fixed charges so that you will pay a dedicated amount for a dedicated period of time.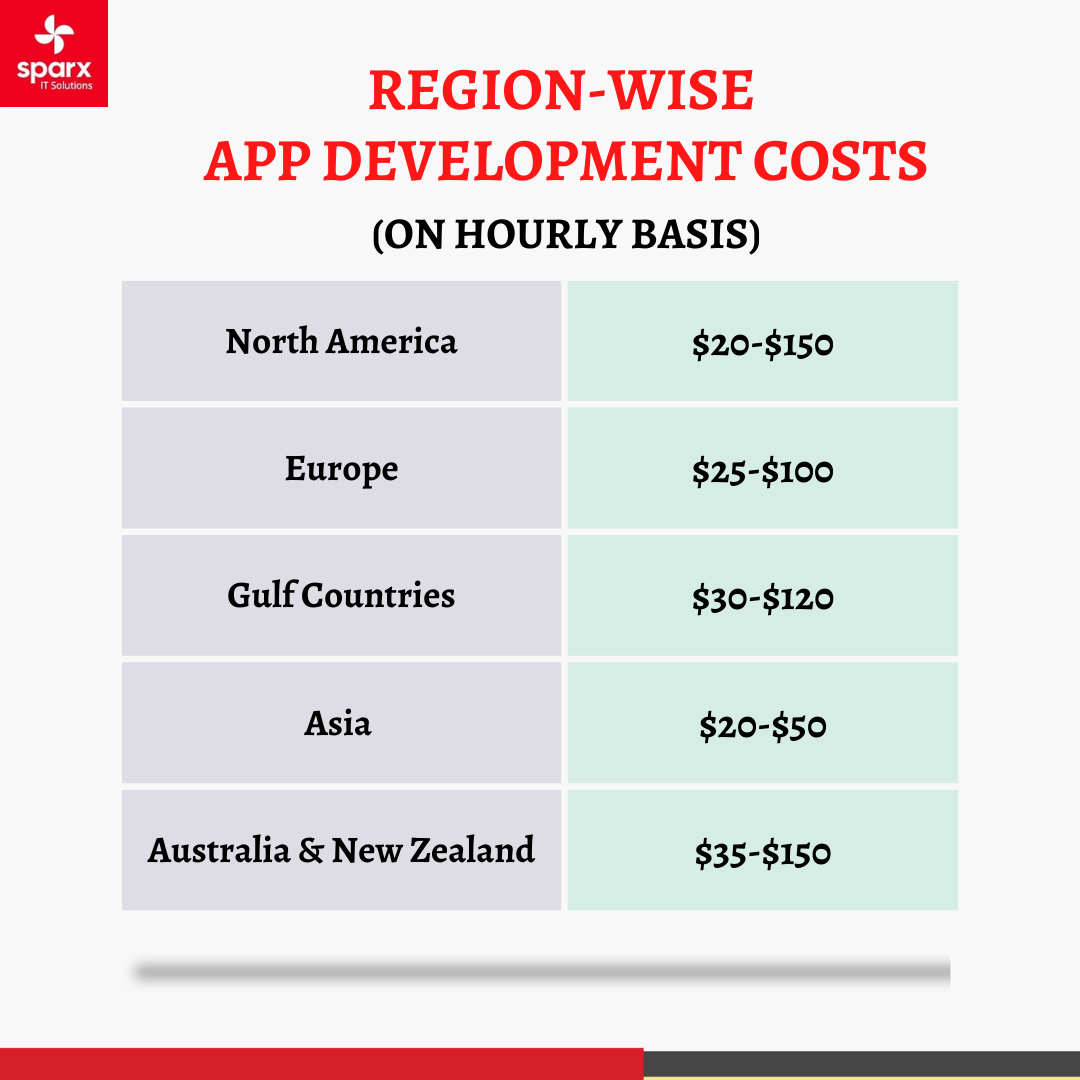 For a large-scale project, it is recommended to avail time & material model, so you pay on an hourly basis.
Here, we are mentioning the tentative ranges of app development costs on an hourly basis in different regions.
Region
Hourly Costs
North America
(the USA, Canada, etc.)


$20-$150

Europe
(UK, France, Italy, etc.)

$25-$100

Gulf Countries
(UAE, Saudi Arabia, etc.)

$30-$120

Asia
(India, Russia, Japan, China, etc.)

$20-$50

Australia & New Zealand


$35-$150
The abovementioned ranges are tentative and can vary depending upon real-time project requirements. App development companies may have individualized cost estimation frameworks, resulting in significant variation in app development costs.
How Much Does It Cost to Develop an App Based On Features?
If you consider using a mobile app development cost calculator, you may get an estimation range starting from $20,000 to $300,000 or more, depending upon the app requirements.
Features are the face of every application. For instance, the first thing people think of when they hear Uber is booking a cab using a mobile app.
To create a taxi booking app like Uber, you may emulate Uber. But, you can create a clone of the app and expect to reach the extent that the leading ride-hailing app has gained.
It is significantly important to consider in-depth and parameterized research before you put your resources into coding the features and building an app.
From user dashboard to payment integration, your app utilizes a range of features to provide users with the experience they seek through your product.
Let us now explore different app features with respective development costs.
User Login
Login is the doorway through which a user gets into your application, and you cannot afford to lose the customer right at the beginning. Thus, it is vital to consider adding multiple options in the login interface, such as through email, social media accounts, resetting passwords, and logging out.
The cost to create and set up a login interface may range from $1100 to $1700.
Media Sharing
If you are planning to create a mobile app that requires a media sharing facility, you can consider adding lightweight uploading options with features like captions, video playback, and post preview.
It may cost you from $800 to $1000 to deploy media sharing functionality to your mobile app.
User Profile
The user profiles in your application may feature fields like regions, bio, occupation, profile picture, and customized media.
To create and deploy a user profile facility in your mobile app, the app development company may charge from $900 to $1200.
Search Options
Your mobile app may feature a variety of data that needs to be accessed based on different categories. Do the extensive search options allow the app users to extract the most relevant results.
It may cost from $500 to $700 to design and deploy an interaction search facility to your mobile application.
Direct Messaging
Direct messaging is both a primary and secondary feature in a wide range of applications.
The personalized of this feature entirely depends upon the end goals of your application.
If you are developing a dedicated application for direct messaging, you may need to keep it lightweight and feature-packed.
In a food delivery or taxi booking app, you may need a direct messaging tool to have basic communication. Mobile app developers can integrate third-party APIs to feature a communication tool that supports the basic messaging needs of your mobile app.
You may need to invest anywhere from $5000 to $7000 to implement direct messaging in your app architecture.
Push Notifications
In-app messaging or push notifications allow users to receive messages or updates interactively. Push notifications appear over the top of the app interface.
This feature is considerably one of the most sought in the app development market as it is convenient for users and businesses seeking to earn through ads.
To integrate push notifications in your mobile app, you may pay anywhere between $1000 to $1200.
Dedicated Panels
A mobile app may need to adapt multiple user authorizations, such as a taxi booking app is used by both the passengers and drivers. The taxi booking app development company would create the same application with different interfaces for users, drivers, and app administrators.
Having dedicated panels within a mobile app can affect your cost estimation significantly. You may have to invest anywhere from $3600 to $5500 to develop separate interfaces for your mobile application.
There can be several other features that may contribute significantly to the cost of mobile app development. However, you may need to consult an app development company to help you comprehend your custom requirement more specifically.
Mobile app development cost breakdown based on features integration:
Features
Functionality
Approximate Cost

Payments

Check transaction history

Check balance

Add or debit/credit card

Payment Gateway Integration like PayPal, Paytm, etc.

$2,500-$3,000

Calls 

Audio Calls

Video Calls

Contact List

$13,000-$15,000

Maps 

Locate the user's location

Set pickup and destination point

$3,000-$4,000
Mobile App Development Costs – Native vs Hybrid
The development approach plays a vital role in defining the mobile app creation costs.
Native apps are more efficient but require more time to develop.
Clients who lack funds or time to create an app prefer making their mobile applications through a hybrid app development approach.
In the Clutch app development survey, 75% of the respondents (n=102) invested iOS native app development, 61% in Android native app development, and 10% in hybrid app development.
The native app development cost can vary from $1000 to $250,000, whereas the hybrid app development cost can range anywhere from $5000 to $1,00,000.
Most Popular Applications and Their Development Costs
A few well-known applications that are now dominating the app industry have redefined and revolutionized the idea of customer experience. The cost of application development of these apps is provided below:
| | |
| --- | --- |
| Popular Application Development Cost | Approximate Range |
| WhatsApp App Development Cost | $30,000-$70,000 |
| Tik-Tok App Development Cost | $60,000-$100,000 |
| Coursera App Development Cost | $60,00-$120,000 |
| Uber App Development Cost | $30,000-$100,000 |
| Snapchat App Development Cost | $45,000-$100,000 |
| Netflix App Development Cost | $25,000-$200,000 |
How Much Does It Cost to Maintain an App?
Maintaining a mobile application is about rectifying any real-time issues that users may encounter as they use the application post-release.
So, what does an app maintenance company offer?
The primary offerings in the app maintenance services may include the followings;
Bug fixing
Upgradation
Server compatibility checks
Code optimization
Stability and performance
Post-release support
50% of the initial version, 25% of the complete app development costs in the second year post-release, and may drop to 15-20% thereafter, suggests Clutch in its app development survey.
What Is the Cost to Build a Mobile App? – Total Estimation
From discovery, design, and development to testing and deployment, it may take a few weeks or even months to accomplish the complete mobile app development process.
The entire process can be divided into six main steps.
Discovery
App Design
Development
Testing
Deployment
Support & Maintenance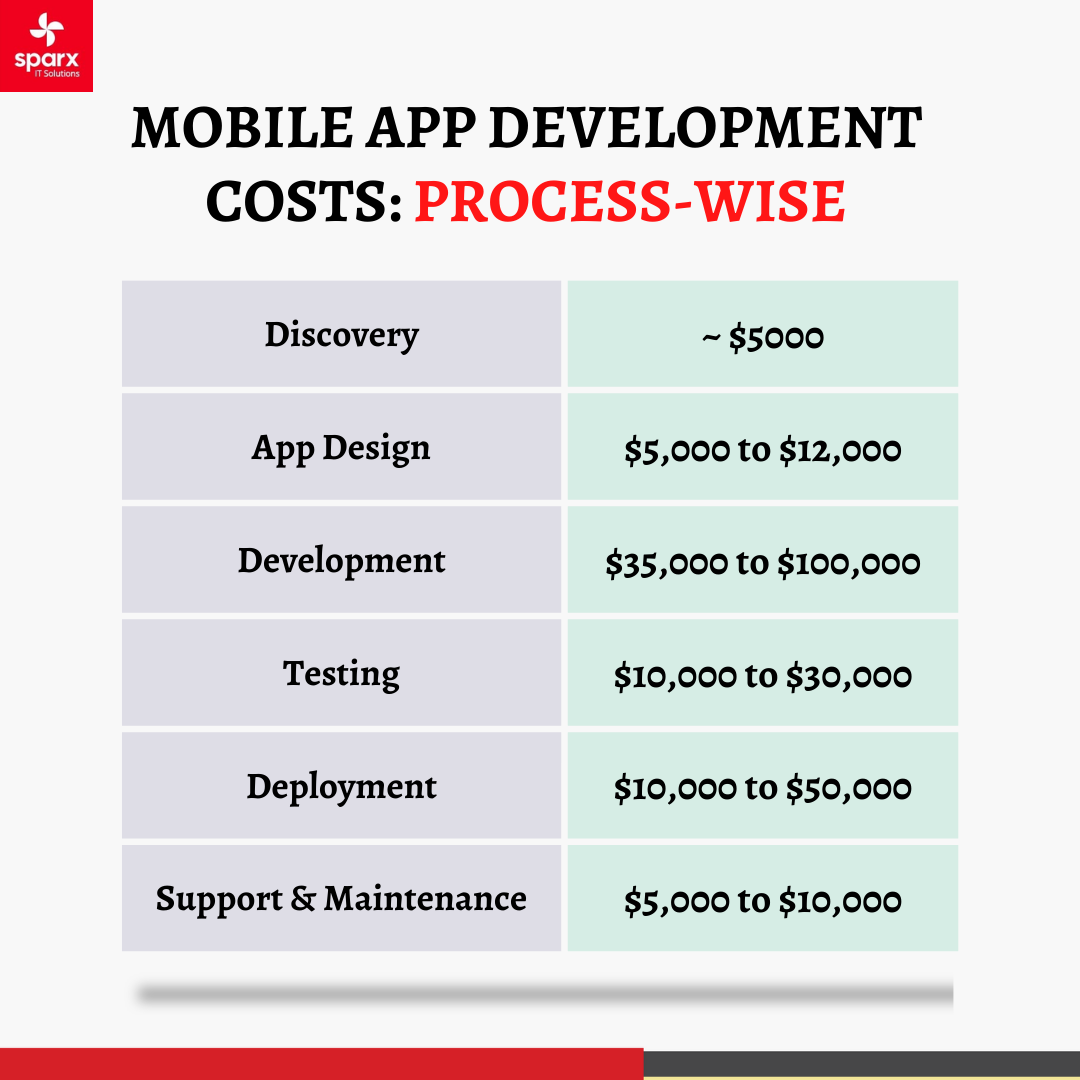 During the discovery process, the app development company helps clients validate their app idea, visualize the product through prototype, and make other important decisions, such as which technology stack or project management methodology they should prefer. It may take anywhere around $5,000 to discover your mobile app vision.
The team of UI/UX designers will help you design your mobile application. You can discuss the number of screens your app will have. The more screens are there, the more the app will become and so will be the app development costs. You may need to spend anywhere between $5,000 to $12,000.
The cost of implementing required functionalities into your app may range between $35,000 to $100,000.
It may cost from $10,000 to $30,000 to test the entire mobile application.
Deployment of other professionals on the project, such as Solution Architects, DevOps, or Business Analysts, may cost you between $10,000 to $50,000.
Considering all insights discussed in the earlier sections, the final cost for creating a mobile app may fall anywhere between $15,000 to $300,000.
Conclusion
The primary goal of this comprehensive guide was to provide 360-degree app development cost insights to the readers, particularly the business leaders seeking to develop their mobile apps.
We hope that you had a good read and have a clearer-than-ever understanding of the cost estimation for your app idea.
You can further consult our app development experts to discuss your custom app requirements and have a more precise discussion.
If you have any feedback, suggestions, or views to share, feel free to put your words in the comment box. Stay tuned!!
How Can SparxIT Help You With Mobile App Development Cost Estimation?
We carefully examine your project's specifications, scope, and desired features to help with cost estimates for developing mobile applications. As a top custom mobile app development company, we consider factors like platform (iOS, Android, or cross-platform), design complexity, integration requirements, and development schedule. We help you create an efficient budget by providing an exact breakdown of app development costs thanks to our expertise.
It reduces unforeseen expenses during the mobile app development process. Our mobile app developers have built cutting-edge apps with robust features like KisanKonnect, which has gained 1 Million+ downloads on the Play Store. Therefore, If you want to create such intuitive mobile applications or get a rough estimate for building an app for your business, contact our app professionals to get started.
Useful articles, updates, offers and guide boon from SparxIT Team
Categories
Want to build an app?
Featured In